"Oh my gosh oh my gosh oh my god oh my god oh my god" imagine I'm saying it like Saleisha at China. Remember it? Yes. I've been watching cycle 9.
It's the first ANTM I saw. When my lovely cousin introduced it to me-
Ah, I'm raining in tears right now- oh tears oh-
-_-
Anyway, I just realized that cycle 16 should be aired around February, and this month is February. And it will be aired next wednesday. GET OUT
We should start learning from this
I don't know if you've realized, but the girls are getting hotter and bitchier by the cycle. True Story
I remember the girls from cycle 4 for being uggos (
and nicer
)
-
Lending their expertise as guest judges during this high fashion cycle are international fashion designer Lana Marks, model/stylist Erin Wasson, stylist Rachel Zoe, Sudanese model and actress Alek Wek, stylist/creative consultant Lori Goldstein, Italian photographer Francesco Carrozzini, fashion model Sonia Dara, IMG Models executive Ivan Bart, Vogue Italia editor-in-chief Franca Sozzani, Brazilian designer Daniella Issa Helayel, and costume designer/stylist Eric Daman ("
Gossip Girl
").
Fourteen model hopefuls will compete for the ultimate career-launching prize package: a contract with IMG Models, one of the top international modeling management companies in the world; a fashion spread in Vogue Italia and an additional spread and cover of Beauty in Vogue; and a $100,000 contract with CoverGirl Cosmetics.
-
I don't know about you but I think the only girl standing out is that second chick from the right;
JACLYN


Name: Jaclyn
Age: 20
Height: 5'10"
Hometown: Belton, Texas
Current location: Belton, Texas
Occupation: Waitress and college student
Favorite Designer: Valentino
Biggest ANTM Fear: Having to do any sort of modeling with a shark!
Most Confident About: Being myself and the person my parents raised me to be.
Favorite Non-Modeling Activities: I love to be outdoors! Hiking, rock climbing and sailing on our lake here in Belton -- I love all sports. Go Steelers! Go Spurs, Go!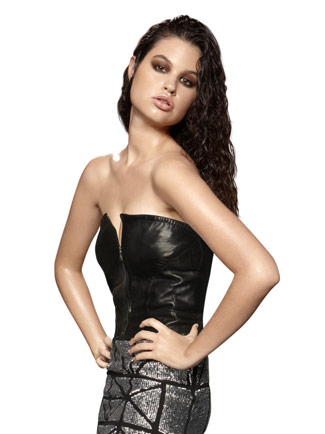 I love this woman already
And more spoilers, they are going to Morocco in the end of the cycle (
AWESOME
). It's like exotic and sexy-ish you know deserts stuff.
There are also "B"s
Find out what I meant with B
What do I have to say?
Can't wait to see it. That's it,
no comments really
. Well maybe I don't know why but cycle 16 seems kinda different from the past cycle I think. Oh, and props for the idea of going to Morocco.
Their resumes